RPI T8
From lechacal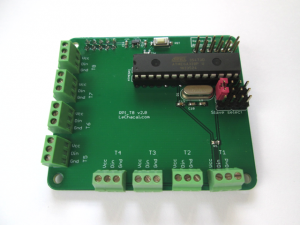 This page is for board specific information. More information can be found on the generic page for RPICT series.
8 Temperature ports for DS18B20
Fit on Raspberrypi 4 holes mounting pattern.
AtMega328 Mcu (Arduino UNO)
Stackable
Compatibility
| Version | Compatible? |
| --- | --- |
| Raspberrypi 1 A | No |
| Raspberrypi 1 B+ | Yes |
| Raspberrypi 2 B | Yes |
| Raspberrypi 3 B | Yes |
| Raspberrypi 3 B+ | Partially (Contact shop if required) More info here. |
Recommended sensors
The RPI_T8 has 8 ports readily available for connection with a DS18B20. Note that more than 8 probes can be used by connecting several probe to a single port.
Stacking Information

The RPI_T8 can be used on its own or stacked on top of RPICT7V1 RPICT4V3 or RPICT8.
The RPI_T8 must be slave 1. i.e. First jumper set as slave. Microcontroller must be removed from the board to operate as slave.
RPI_T8 must be the top unit in any stack. This is due to the screw terminal which won't be accessible if not at the top.
General stacking information is described in the RPICT stacking page.
RPICT_Stacking
Software Configuration
As Master
Coming soon...
As Slave
The documentation for serial configuration can be found on this page.

Over Serial Configuration - Sketch 3.0

To enable temperature just add a single channel as temperature. All detected probe will be output.
The board can be configured with the online configurator.
Files
Sketch
Master Sketch
coming soon...
Slave Sketch
In order to use the RPI_T8 as slave the master board must be flashed with the sketch below with temperature support enabled. To enable Temperature support uncomment line 10 in the sketch. Remove the two slashes in the following line.
//#define TEMPERATURE_SUPPORT