MODWRT2
From lechacal
For the previous version of MODWRT see here ModWRT.
Modbus RTU to Emoncms Influxdb Thingspeak
Modbus to Emoncms. The ModWRT is a Modbus RTU unit to interface with one or several RS485 RTU devices. The ModWRT sends a predefined set of registers value to a server for data logging and display.
The end server can be either of type Emoncms, Influxdb or Thingspeak.
All communication and dataflow parameters are configured using a web interface.
Technical Specifications
RS485 port for RTU

Ethernet port

Integrated Wifi

Micro-usb Power supply

Operating system: OpenWRT 15.05

Flash Memory: 16MB

PCB Dimensions: 55x40mm

Optional Wifi antenna

Hardware
A complete MODWRT includes the base board and a SKW71 Module.
PCB Base Board
The base board can be purchased here.

SKW71 Module
The SKW71 module from Skylab runs the operating system OpenWrt.
Wifi enabled
Runs the ModWrt software
Collect acquired data from RTU's
Forward to Emoncms/Influxdb/Thingspeak
The SKW71 modules has two antenna options.
PCB Antenna
The antenna is internal and does not require any other parts. This usually a good option if other connecting devices are in a good range.
External Antenna
If a stronger range is needed this can be a good option. Two additional components will be required.
1 U.FL IPX to SMA cable.
1 SMA Antenna.
The U.FL IPX connector fits on the SKW71 module.
Enclosure
The Modwrt PCB fits in an aluminium enclosure with 40x64x30mm dimensions.
3D printed end plate are available.
Software
The ModWRT web interface is build within the OpenWRT web interface.
There are three main functional area which are:
1/ RTU's definitions
2/ Servers definitions
3/ Dataflow configuration (ie which data goes where).


The web interface is briefly described below. See more details in the user manual.
1. RTU definition
All Modbus RTU devices can be configured on one single page using Slave ID and communication parameters (baud rate etc).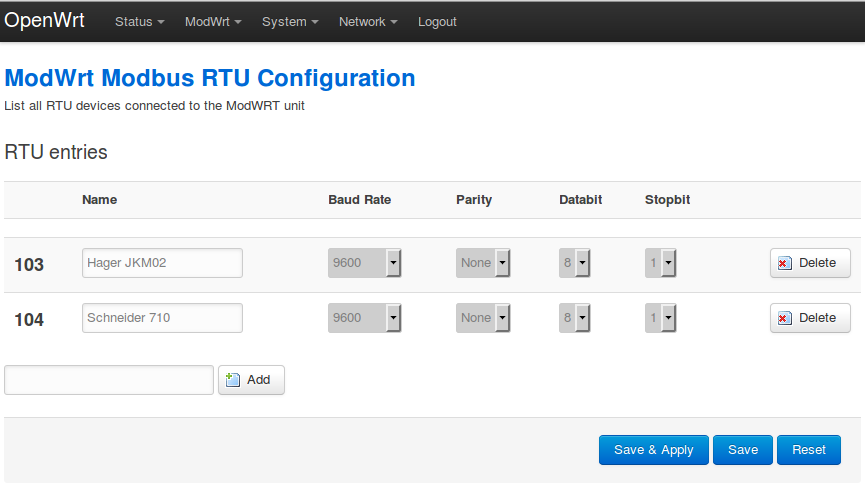 2. Stream to Emoncms, Influxdb, Thingspeak definition
Internet of Thing (iot) servers can be configured on this page.
3. Dataflow Configuration
This page will configure all dataflow combination.

A single dataflow can query different RTU unit to send combined data onto a single export.



As an example the above example will display the following data on Emoncms.


User Manual
Emonwrt3 Network Configuration (same applies for EMonwrt3 and Modwrt).
Related Articles